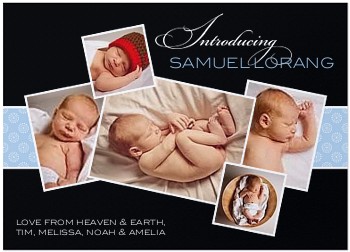 Introducing Him Birth Announcement
Personalized cards for babies,
graduation
, and Mother's Day.

I had intended to send out birth announcements this time.
(real one's, you know, the kind you send in the mail)
I didn't with Noah.
I didn't feel right doing it for Amelia.
And, now I just can't decide on a photo,
or layout,
or
card for that matter....for Sam.
I guess my kids are just too darn cute for a traditional birth announcement! ;)